I love to snorkel. It may be my favorite activity. And I wasn't sure I'd be able to share it with my four year-old when we set out for Hawaii. I was so very wrong. With some advance planning and the right gear, Bambino kept up with us and enjoyed the rich beauty of Oahu's North Shore.
So, what did we do?
Swimming Lessons
Bambino started swimming lessons when he was six months old, so being in the water was nothing new. However, about three months before our trip, we increased the intensity. We put him in lessons twice each week, and we structured some solid water play time around those lessons. I also communicated with his teachers; they knew we were working toward a trip to Hawaii and snorkeling, so they concentrated on solid swimming skills as well as some good water safety skills, too.
Family Snorkeling Packing List
Tribord EasyBreath Snorkeling Mask: $75 on Amazon.com
This mask is a game-changer and made snorkeling incredibly easy for Bambino. Read more about this incredible piece of equipment in my review (click below).
Stearns Puddle Jumper Life Jacket: $22 on Amazon.com
Bambino wore his Puddle Jumper while snorkeling and playing in the waves on the beach. It is designed to help a child float on their back should they get into trouble in the water, but it does not inhibit their ability to play in the water, to snorkel, or to swim.
Stearns Child Classic Series Vest: $19 on Amazon.com
For our time on our boat trip and out in deeper water, we also had a life vest designed for the open water. The boat had life jackets, but I felt better having one along that I knew fit well. If you only wanted to take one life jacket, this would be a good choice.
GoPro Camera: $99 - $599 on Amazon.com
I had to have photos! And I have never had an underwater camera before. After extensive research, the GoPro appeared to be my best bet for getting great photos and video at a relatively reasonable price. And I have to say, I was pleased with the results.
Water Shoes: $19 on Amazon.com
My husband and I once took a Hawaiian vacation without water shoes, and we came home from our favorite snorkeling spot cut and bruised from being pushed into the lava and coral by the waves. Never again! Bambino wore his water shoes quite a bit, and they saved his little toes a lot of pain. They are also easier for children than flippers.
Long-Sleeved Rash Guard: $23 on LandsEnd.com
Bambino inherited his father's olive skin, but he still needs protection from the sun. I love a good rash guard! They are so much easier than reapplying sunscreen constantly, and he went ten days in the sun and surf without a bit of sunburn.
A Wetsuit: The Big Thing I Missed
Little bodies don't hold their body heat as well as grown-up bodies do. While the waters of Hawaii are blissfully warm, the waters on the reefs and even not that far off shore are colder. For Bambino it was too cold. When we go again, we will rent a wetsuit for the week for him. Rentals are not very expensive, and having one would have made all the difference when the waters were a little chilly.
Note: I have included the stores at which I purchased each item as well as the price I paid at the time. This is just for your reference. I don't make any money from these retailers.
North Shore Favorites: Beaches
Laie Beach Park:
Our Favorite Beach for Play
If you are looking for a stretch of deserted beach for sandcastle building, shell hunting, and playing in the waves, head to Laie Beach. We often had the beach to ourselves! There is a good parking lot and a shower for rinsing off the sand. And it is beautiful!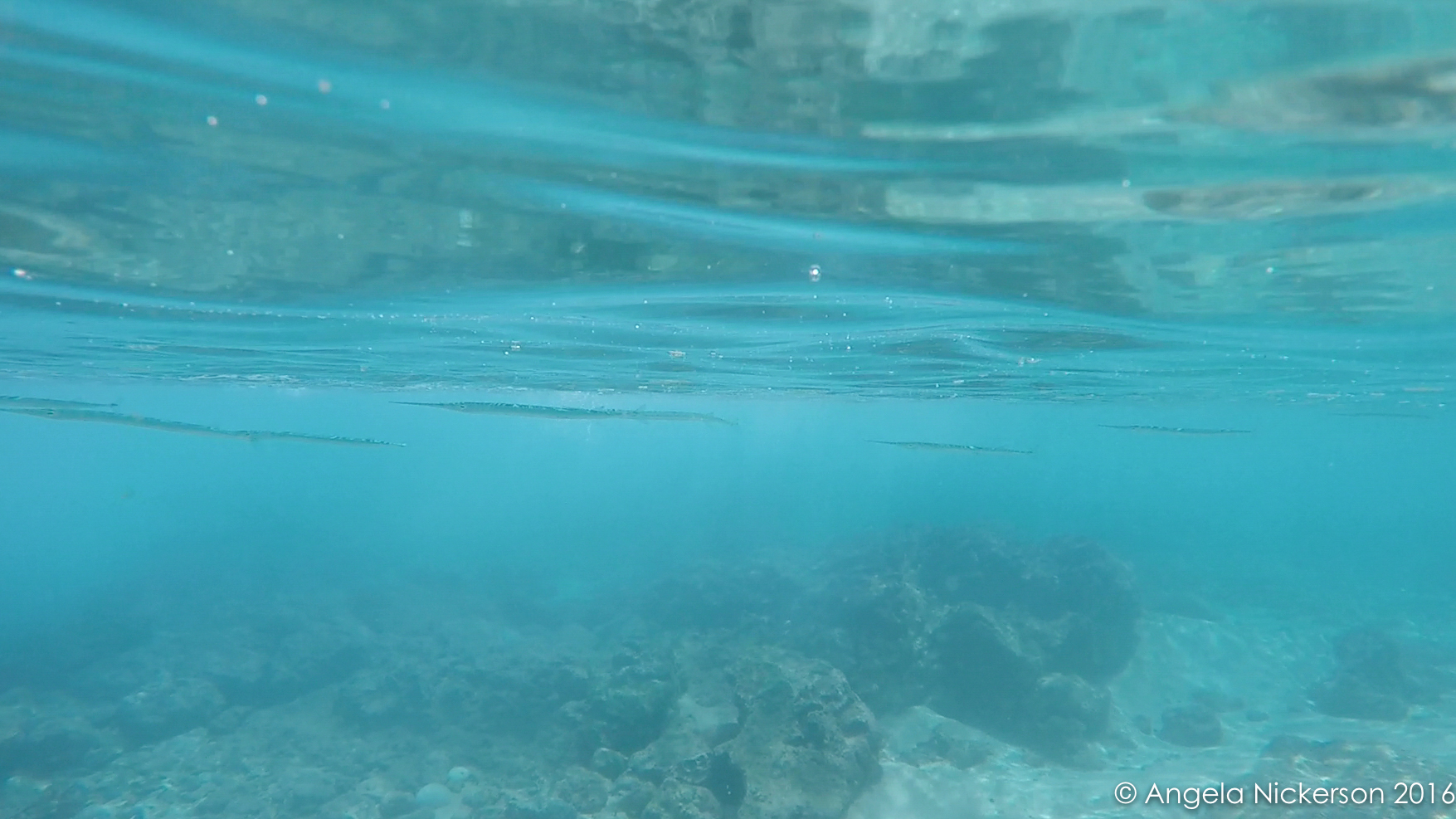 Pupukea Beach Park:
Our Favorite Snorkeling Spot
Technically Pupukea Beach boasts tide pools, but they are deep enough for snorkeling, and they are full of fish. Pupukea is a great place for beginning snorkelers and families alike. In a few days of snorkeling here we saw Damsel Fish, Angel Fish, Coronet Fish, Parrot Fish, Butterfly Fish, Wrasse, Tangs, several kinds of Trigger Fish, Goat Fish, Surgeon Fish, and more! The best part: Bambino saw almost everything we saw and could identify them. We spent several happy days snorkeling here and playing on the sandy beach, too. But be sure to bring your water shoes -- sharp lava and rocks will cut up little bare feet.